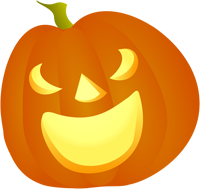 Positive Pumpkin Contest
Guidelines:
Students may work individually or in teams of up to 4 people.
Decorate a pumpkin to look like a favorite storybook character. This can be a character from any children's book.
Fill out the bottom portion of the form below listing the name of the character, the title of the book, and a short description of how this character overcame an obstacle or showed positivity.
Bring your pumpkin and the bottom of this form to the office any time between October 21st and October 28th. They will be displayed in the library for everyone to see.
All pumpkins will be sent home on October 31st.
Prizes will be given for:
Most Original
Most Creative
Funniest
People's Choice
Remember:
This is a no-poke contest. No carved, or punctured pumpkins will be accepted.